Kevin Cryan
MV Fellow


I love Midnight Voices!



Posts: 1144

Clive James on David Hockney
« : 25.10.16 at 08:48 »
Quote
---
The Guardian
A History of Pictures by David Hockney Martin Gayford -Clive James takes a magic flight on Air Hockney
This wonderful book, lavishly illustrated, comprises conversations between Hockney and Gayford about the making of art, from the caves of Lascaux to today
Wednesday 19 October 2016 09.00 BST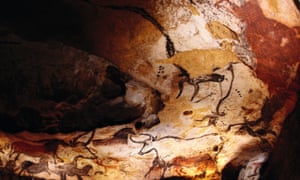 Art doesn't progress' … a detail of the 17,300-year-old cave paintings in Lascaux. Photograph: Sissie Brimberg/National Geographic/Getty Images
Quote:

David Hockney, I have always thought, is running his own airline, on which one may book a flight to a better world. I first thought this when I arrived in London in the early 1960s and saw a copy of the London Magazine which had a small but sparkling reproduction of one of his most celebrated early paintings, The Flight Into Italy. Fresh out of art school, he was only just getting started in those days, but even his first works had that magic thing, lyrical authority.

I have a granddaughter whose drawings have lyrical authority and sometimes I watch her to see if a stream of sparks comes down from heaven and drills a hole to get into her head. When it happened to Hockney he turned blonde. I saw a photo of him in his pop glasses and I found it liberating that he had come so far to the party: much further than I had. He had a flat cap, like a safe-cracker whose jemmy was a paintbrush: and really that was what he was up to. He was cracking the safe of the world of art.

He's still at it, except today he does it on the scale of a Bond villain, with a factory-sized facility in the mountains of California, and stuff.....
read on
Kevin Cryan